Lead Free Solder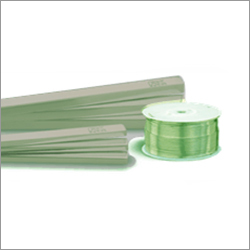 Lead Free Solder
Product Code : 03
Brand Name : HARSH SOLDERS
Lead Free Solders

Our trained specialists are providing gaining resource, by attaining the position as one of the major manufacturer and supplier with having a wide range of Lead Free Solders. These Solders are get completed by support of our experienced and well maintained team of employees with the help of premium quality of raw materials and updated technology in support with the set market standards.
For the European users and those who are into exporting business with Europe, this specific class is particularly developed as well as mastered. It has good diameter capabilities with maximum value of 24 swg. We produce this product precisely to meet the demanding standards of quality. For a large number of Pb-Free applications, the perfect balance of properties is offered by the Sn/Ag/Cu (SAC) alloys. It also offers improved wetting in comparison to the binary eutectic Sn/Ag and Sn/Cu. In case of hand soldering, wetting speed is the primary performance requirement. So, SAC is preferred for use with solid or cored solder wire. The Bi/Sn/Ag alloy can be the finest choice for lower temperature rework, wherein the flux amount needs to be controlled. In case the rework is associated with excessive flux residue, the non-cored or solid wire in conjunction with liquid flux is preferable.
Key Features:
Free from oxides
Better mechanical strength
Excellent wetting
Important Points
1) The temperature values viz Liquidus (LIQ) and Solidus (SOL) are only for information. These are not for use in the alloy formulation. In the "LIQ" columns, "mp" is for tabulated solidus temperature and an "e" is for eutectic alloys; it represents the element's melting point.
We have made best possible efforts to document only the correct LIQ and SOL temperatures for every alloy. However, we advise users to verify these value before using them.
2) Sn95Sb5 has a nominal antimony (Sb) mass percentage of 5.0% and an allowable antimony percent able range of 4.0% to 6.0%.
3) Sn99.9 is used as as standard to replenish tin in wave soldering baths. It is definitely NOT ideal for use as a stand-alone solder as it has reliability problems and potential performance issues.
Specifications:
Alloy Composition
Celsius
Fahrenheit
SOL
LIQ
SOL
LIQ
In52Sn48
118
e
244.4
e
Sn42Bi58
138
e
280.4
e
Sn95.5Ag3.8Cu0.7
217
e
422.6
e
Sn95.8Ag3.5Cu0.7
217
e
422.6
e
Sn95Ag4Cd1
216
219
420.8
426.2
Sn95Ag5
221
245
429.8
473
Sn95Sb5
235
240
455
464
Sn96Ag2.5Cu0.5Bi1
214
218
417.2
424.4
Sn96.3Ag2.5Cu0.7Sb0.5
210
216
410
420.8
Sn96.3Ag3.7
221
e
429.8
e
Sn96.4Ag3.2Cu0.4
217
e
422.6
e
Sn96.5Ag3.5
221
e
429.8
e
Sn97Cu3
227
300
440.6
572
Sn99.3Cu0.7
227
e
440.6
e
Sn99.9
232
mp
449.6
mp
HARSH SOLDERS
Plot No, K-214, M.I.D.C. Area Waluj, Aurangabad - 431136, Maharashtra, India
Mr. A. M. Shitole (Proprietor)